Situated in the top part of the Stellar UI, this area contains a multitude of menus, buttons and status details.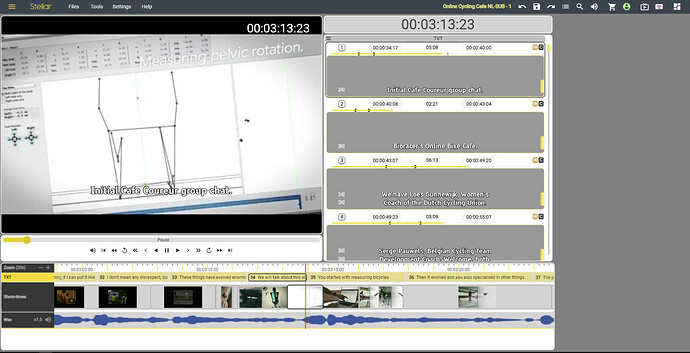 The top bar is split into 3 areas:
Menu Area

- drop-down menus.

- information about Stellar/Nebula Version
Files - Opens the Stellar Tasks Menu which gives you access to things such as Current Task / Open Task / Manage Tasks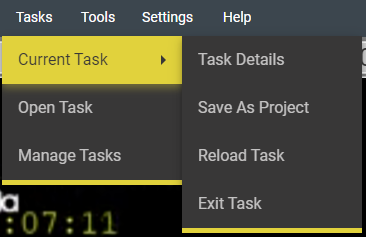 Tasks - Opens the Stellar Files Menu which gives you access to things such as Import/Export, Layouts, Project Actions and Text Files Actions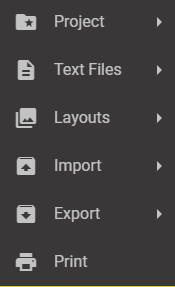 Tools - Opens the Stellar Tools Menu - depending on the plugins which are activated, this menu may contains several sub-menus: Audio Tools, AI Tools, Timing Tools, Subtitle Tools, Append/Split.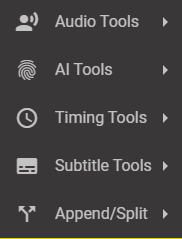 Settings - Give you access to various types of setting menu in Stellar.
Widget Settings - Global list of available Widgets
Fonts Manger - Adjust Font related settings.
Profile Manager - Adjust Profile related settings.
Hotkey Settings - Adjust Hotkey related settings.
Shortcuts - Change Shortcut related settings.
Help - Various help related links.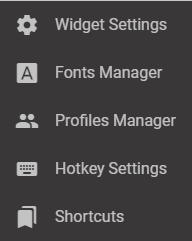 Details Area


Current Layout - Audio Description Super User - Standard Screen
Current Project - Online Cycling Café NL-VO
Command Area

| Combination | Name | Description |
| --- | --- | --- |
| | Undo & Redo | Undo or redo (after undo) the last action. |
| | | Ctrl+ Z and Ctrl+ Y |
| | Save Indicator | Shows the status of all changes to the current open text files. |
| | | If Yellow then there are saves outstanding. |
| | | If Green then all saves have been completed. |
| | | All saving of text and audio is automatic. |
| | | You can force a Save by clicking on this icon or doing Ctrl+ S. |
| | Sync Indicator | Shows the status of all changes to the current open Task. |
| | | If Yellow then the Task is currently synchronizing. |
| | | If Green then Task synchronization is complete. |
| | Process Status | Shows a list of background processes. |
| | Find & Replace | Opens the Find and Replace tool |
| | | Ctrl+F or Ctrl+H |
| | Volume Manager | Visible if the Volume Manager Widget is enabled |
| | | Speaker Icon is Red this indicates an error with one of the audio inputs. |
| | My Account | Open your Nebula account page in a new tab |
| | | Only visible for PayGo users |
| | Log In / Log Out | To use the Task list and some other centralised features you need to log into your Nebula account. |
| | | Do this with the username and password in your original sign-up email. |
| | | The Icon is green when you are logged in. |
| | Rehearse | Enable/Disable Rehearse Mode |
| | Hotkey Map | Hover over to see the current hotkey mapping loaded. |
| | | Hotkey Maps allow you to customise the keyboard and mouse controls to make Stellar work the way you want, or to emulate a software product you are already familiar with. |
| | | Click to open the Hotkey Settings control. |
| | Layout | Layout Mode switch – Turn Layout Mode on and off. |
| | | Yellow when Layout mode is on. |
| | | Tip: Pressing Esc will exit Layout mode and abandon any changes. |