There are several widgets that have editable time-code displays. These include the master media time-code, subtitle In and Out times and AD times.
Wherever the time-code can be edited or updated the key combinations are the same. See the Time-code Editing section on the Hotkeys page.
Capturing and Editing Timecode in Subtitles, Captions or AD Text.
Every timed text element has at least one time associated with it, for subtitles and captions there will be an In and an Out time while a timed word list will have a time for each word.
For Subtitles, Captions and AD text the times can be captured from the video based on the current timecode by a single hotkey combination. See the Capture Timecode commands on the Hotkeys page
Timecodes can also be edited via the keyboard or the mouse, for full details see the Timecode Editing section of the Hotkeys page.
Example:
Editing a timecode with the mouse
Click once in a subtitle timecode to select it for editing – If the subtitle file or the whole subtitle editor is set to Read Only, Comments only or Text only editing you will not be able to select the timecode.

Press Tab to step between the text, the in cue and the out cue

One section of the timecode will be highlighted blue – normally the frames.

With the mouse pointer over the blue area the mouse wheel and the arrow keys will change the value up or down.


use the left and right arrows or click on a different section of the timecode to select that


Now the mouse wheel and the arrow keys will change the minutes value.

You will not be able to make the duration less than zero or to make the In or Out times overlap the neighboring subtitles.
Editing a timecode with the keyboard.
You can use the timeline display to move subtitles relative to other subtitles.
See the TimeLine Widget section here for full details Hotkeys page.
Drag a single subtitle
You can move one subtitle at a time by placing the mouse pointer over the subtitle you want to move on the timeline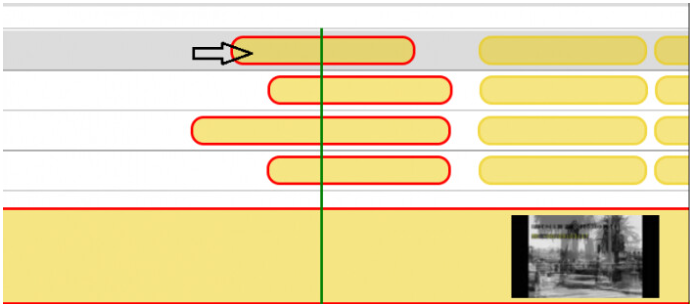 Hold down the Shift key and the left mouse button and drag to move the subtitle (Shift+Click+Drag). Both the In and Out times will change to move the subtitle but keep the duration the same.
You can't move the subtitle past either the Next or Previous subtitle.
For more details on editing subtitle timing on the timeline see the Edit TC on Timeline Section